Hydromadam Presents...
Secrets
This product was produced in 2005 and is in compliance with 18 U.S.C. Section 2257
Stonefox Productions is pleased to present "Secrets" by Hydromadam! This is by far the best production in our Hydromadam product line and not to be missed!
Lovely Erika is visiting her Aunt Genevive in New York City. But the trip has been a long and hard one and when Erika gets to her Aunt's house, she is tired and lethargic. Aunt Genevive is concerned and decides to take her temperature. Being the old fashioned one she is, that means Erika has to submit her bare bottom to a rectal thermometer!
Yes, Erika does have a bit of a fever and Aunt Genevive certainly has a cure for that! With bottom bare, Erika goes over her Aunt's lap for a prolonged bulb enema.
Aunt Genevive has to run some errands and suggests that Erika take a nap while she is out. Well, instead of sleeping, Erika decides to start snooping around her aunts apartment. Even though she has been given very explicit instructions to stay out of her bathroom, she can't resist temptation. Soon she finds all of her aunt's toys! Big giant enema nozzles and huge bags. Erika can't resist and soon fills a bag and inserts a douche nozzle into her bottom for two quarts of warm water.
Feeling very randy, she finds some porn in her aunt's bedroom and starts masturbating. Not only does her aunt have big enema nozzles, she has big dildos! Soon, one of them finds its way into Erika's wet vagina.
After good sex comes a good smoke and Erika relaxes on her aunt's bed, surrounded by porn and toys. Of course this is the moment Aunt Genevive comes home and finds her not so innocent niece. A well deserved punishment enema is prescribed and before long Erika finds a double inflatable nozzle in her rectum.
Instead of expelling it in the toilet, she is forced to expel it in the bathtub in front of her aunt. How humiliating!
Its not over for poor Erika. After her enema she finds herself over her aunt's lap for a bare bottom spanking.
This excellent production is 41 minutes long.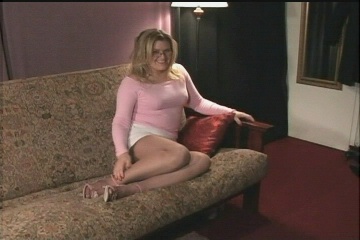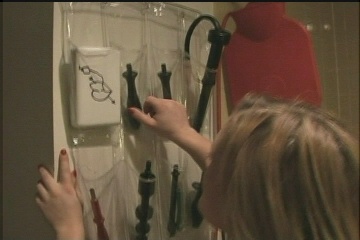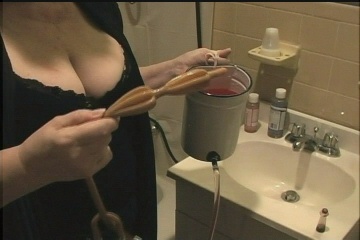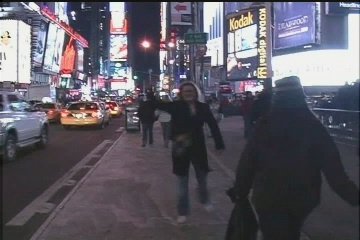 Go to the Stonefox Catalog Page
A description of this product with more explicit pictures is available in the Members Area