What's New - Product Catalog - Member's Area - Join - Stonefox Theater - New Releases - Medical Fetishism - Disclaimer - Written Words - Casting Call - Mail/Fax Orders - Shipping Information - Contact Us - Enema Information

Written Words

Have very much enjoyed watching The Evil Doctor Smith. Do you think we might be seeing anymore of this wicked Doctor? I should thoroughly enjoy to see more of her fiendish experiments. I've always loved this kind of scenario, especially with a sexy lady in the dominant role. Thank you for a wonderful site and a truly great service. By the way, I bet this is the first email you've received from a blind customer, your videos are just as sexy in sound only. I loved this one in particular because the Doctor explained most of what she was going to do before she did it. This both built up the anticipation and of course gave me a good idea of what was going on. The detailed descriptions are also extremely good for me, giving me a good idea of the action taking place. Thank you once again, very much appreciated.
---
I just wanted to drop you a line to say "Thank you" for the discount on a renewal membership. You always find ways to help members in tough times with great deals. Stonefox is the best in the Med-Fetish business and you can count on me from here on to be a member of this great site.
---
Dr. Fish, when I was a youngster, I used to get "over the lap" enemas from my mother. I always attempted to negotiate to get out of taking one, but it never worked. My underpants were the last protective barrier and when I was "ordered to meet" my mother in her upstairs bathroom....and there was her red rubber combination syringe suspended from a little brass hook above the toilet tank, a jar of Vaseline on the sink vanity counter....a Pyrex mixing bowl with a bar of Ivory soap in it and a measuring cup....I knew that my last protective shield was about to be removed and in a few minutes I would be getting my nozzle. Oh yes....there was always a Looney Tunes comic to read after the post nozzle removal phase of activity during what was known as the "squirt out" I usually got two...a soapy and a rinse. During World War II, my father was a parachute infantry battalion commander in Europe....My uncle was in the Pacific....So my aunt and Cousin Martha came to stay with us. Back then cross country travel was by train....troop train restrooms were filthy, so to keep Martha and me from using the toilet facilities on trains, we were denied breakfast and given a thorough internal "cleanout"....Martha and I were taken into the upstairs bathroom and given enemas one at a time bent over the side of the bath tub. I got a comic book to read and she got a movie star magazine to read during her "squirt out"....I wore a t-shirt and underpants and she wore a short nightie and panties. She whined...protested...squirmed....wiggled...."I don't want one...I will have an accident..." "You do young lady, and you will get a major league spanking." "I'm full, I can't take any more...it is going to come out...take it out of me and let me go to the bathroom." I tried the same thing and got my fanny smacked. Martha realized that as a little boy, I was fascinated by her intimate parts and would bribe me for candy and popcorn money at the movies....with "If you buy me a Hershey bar, I will go behind Zahnd's store on the way home and pull my panties down and let you feel me in my crease." Somehow, I have always gotten excited by the fantasy vision of a woman protesting an enema...squirming....wiggling...begging to have it stopped...crying....yelling "Take it out...or I will have an accident" and having to be held down when being filled.

Do you have an interesting story to tell? Let us know on the Contact Us page!
---
Rectal thermometers just arrived. I have to say it is the best in the "rectal thermometer series". My favorite was Physician assistant study weekend. I loved Margaret in her school uniform having her temperature taken as the procedure is explained by her friend and study-mate. Just great. I can't wait for rectal thermometers #6. Thank you for such fine service and high quality products.
---
Dear Stonefox Productions, I been a fan of yours for several years now and will always be a fan and a loyal buyer.

I wanted to say that, if the world ends tonight at any time or hour.

I just wanted to say how much you mean to me. When I first discovered your videos on YouTube and then found the website where I could watch the full uncut and uncensored videos and order stuff I think that totally rocks. I bought 20 of your DVD's and I plan to buy many more and have a full DVD holder full of your stuff. Your video content is fantastic; the best I've ever seen on the web and on DVD. I've looked all over the web for stuff like you have on your website and I can't find anything that comes even close to what you have on your website. You will never lose me as a buyer. Your website is the best website I've ever seen. I want to say thank you for everything you have done for me. You have the best shipping and handling ever. For that I thank you. When I need to email you, you have speedy email replies.
---
Thank you Dr. Fish, I appreciate your kindness and good gesture.
I recall one time my DVD for Shots 2 was damaged, you mailed me another one free of cost. My order was goofed one time and you sent me a complimentary DVD.
Not only are your productions the best available, you also excel in customer service which is the reason I never even think of visiting any of the other production house, claiming to offer similar movies.
Happy Holidays!
---
Doc Edwin: scheduled for my colonoscopy in 2 weeks.
Albert Fish: Don't fret it. It's not a big deal.
Doc Edwin: yeah i know. It'll be my second. I got 10 years clearance on last one. 10 years is up. Looking forward to the peace of mind again. It's because of Stonefox and the ladies getting their sigs done on video that gave me the courage and desire to get it done the first time.
Doc Edwin: I wrote to Anika at the time to thank her.
---
WOW! ;That was the fastest response time i have ever seen. I no sooner signed off, and went back and you had it fixed!
That is just one of the reasons I LOVE THIS SITE, and the quality of your movies. Thanks again for being so prompt.
A VERY SATISFIED CUSTOMER !
---
I watched one of your newest productions 'Shelly visits the PHD' and I must say it was a great job! I really liked the new nurse Nancy, she was funny and natural and teamed up really well with Dr. Claw. I think it was a fine debut for her in this new role and I very much hope to see Nurse Nancy in your videos again! I also enjoy the fact that you are now depicting spinal exams on a regular basis; keep it up!
Some suggestions: (a) Hi-res downloads could be even bigger in size to improve the quality, (b) expand the part when Dr is taking a sexual history to make it more detailed and embarrassing for the patient, (c) I'd love to see some strip search/prison related video.
I look forward to your next productions!
---
Hi Dr. Albert, I picked up my order today. The Dr. Smith video was awesome! No glitches, and much sharper resolution than the old VHS copy that I bought years ago. It was a real treat to watch it without the imperfections. I couldn't get over the improved quality. Thanks for the replacement! The other videos were great too!

We re-mastered The Evil Dr. Smith using the original 8mm tape. The original DVD was made from the SVHS master which had some issues. This re-mastered production is now available as a Hi-res download and DVD.
---
Dear Dr. Albert,
Just had to write you. Your recent features seemed to have crossed over a threshold which is satisfying a long standing fancy especially for temp activity. I like the plump bottoms with legs closed and the prying open to reveal the target. The angles and lighting are good as always. It seems you have come to this unique perspective after many years of exploration.
I congratulate you on your dedication and devotion to the subject and your artistic eye and treatment.
---
Dear Stonefox: I hope all is well. I love the site! One question though, and I have noticed this elsewhere with models and women in public view: whither pubic hair? Can none be found anymore?
---
"Denise Rowe's Physical exam" just arrived. It is some of your best work. The whole production is first class. I just love Denise's lovely bottom with the thermometer and nozzle held between her buttocks. This is what I love about medical fetish and Stonefox always delivers. The discount coupon and membership discount made it a GREAT value as well. Keep up the good work. I will be back for more.
---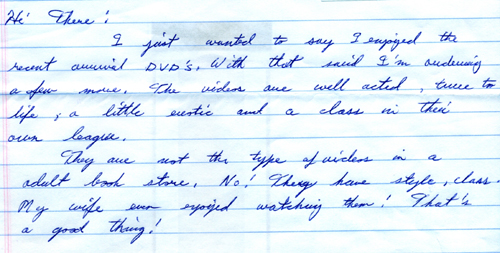 ---
Another wonderful letter from a 69 year old customer: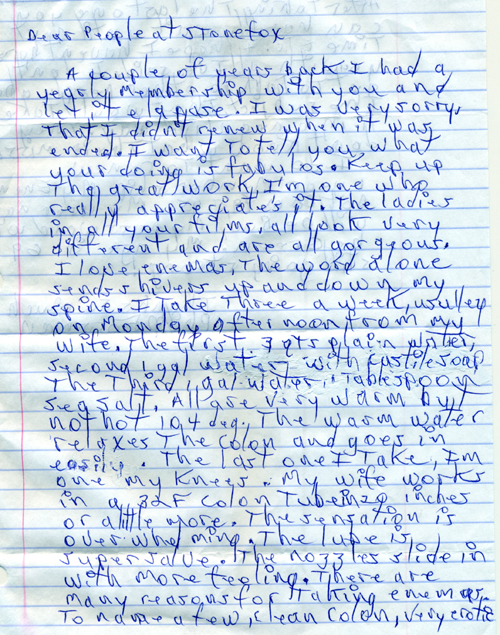 ---
Dear sir, I recently bought a bunch of your Hi-res downloads and am real happy with the one movie that has Dr. Claw and Sabrina and some other cute brunette. It's the one were Sabrina catches the two fooling around and then comes in and gives Dr. Claw an enema. ( You need to make the Hi-res downloads bigger and better! )

I loved seeing Dr. Claw in the stirrups! She has such an interesting vulva with it's size and inner color. I love the triangle chop bush as well! I think that you should keep using her! Sabrina is good when she is serious. The way these girls dyked out was great!

I tried to reach Francis Ford Coppola, but he would not take my call!

Keep up the good work, AL!
---
Hi Dr.Fish, I just wanted to write to thank you for the discount coupon to reinstate my membership when it was cancelled in error. I really appreciate the way take care of your members. Stonefox is first class when it comes to customer service.
---
I just received "Diane Donnelly visits Dr.Shelbourn". I was thrilled. You are by far the best in the business of "Medical fetish". Diane has such a lovely bottom. I loved seeing it receive the thermometer and nozzle as well as a perfect spanking. My membership made this a great buy and the discount coupon you sent via e-mail made this such a value in tough times.
---
Keep up the good work at STONEFOX. I hope to see more of Diana and the good Dr.Shelbourne.

With her pretty smile and mischievous eyes, Denise Rowe was already exhibiting the fidgeting and nervous anticipatory signs of a naughty girl at the very start of the video, and at the 52 sec. mark she shows her mischievous side by chirping like a little bird as you told the viewers to feel free to tweet messages/questions to you. Why does that not surprise me, as amusing as it is? *chuckling with wicked grin* And of course after 1' 29" she, of course, had to make a little face in the camera, like naughty girls oftentimes do to create mischief, which she does so nicely.

Recollecting her start with Enemaerotic brought back memories which prompted her to fidget nervously as she described her first filming adventures that the little "try anything" girl tells us. The more she talked though, the more comfortable she seemed, especially when letting the viewer know that she really enjoyed receiving the enema much to everyone's surprise. Playing with her beautiful tresses, bringing her knees up with her feet resting on the chair and fidgeting with the dangling strap from her pants, Miss Rowe exhibited the signs of a woman who relishes the thoughts she is having as she recollects the people and times that were spent during her early enema adventures.

As you brought up this nervousness that comes through with her, as is already being exhibited even with the interview, Denise's many gestures display her anticipation of being brought to the brink of fear, without experiencing the actual fear. This is what I term a SOHF (Sense of Healthy Fear) during which time she felt the chills going through her womanly body at the thought of the unknown future. The less she actually is aware of what the future holds for her, be it an enema, a shot, or a spanking, etc., the better it is for her and, of course, the viewer. Knowing she is always in good hands, figuratively and literally, does not prevent the natural instincts that permeate her mind.

When the subject of spanking comes up, the Beautiful Brat of a Woman becomes somewhat indignant when describing the incident with the book and her father's attempt to use a belt on her, showing her pride in defeating his intentions, but admitting wholeheartedly that she deserved to be spanked, and was not spanked enough. She is a proud little beauty, who, at 37 still deserves to be spanked on a regular basis, but, it has to be done properly so that she actually does learn from it. And yes, Dr. Fish, I think you are aware that no matter how much a woman enjoys being spanked, as she does, with the proper mental preparation through scolding combined with the spanking, a woman can learn lessons that she did not fully realize were possible. And when you bring up the fact that she might have been stoic when she was spanked, notice how she indignantly throws out her cute lower lip as if you would even dare to think she would accept a spanking without a struggle? A spanking to this proud beauty's shapely buttocks, no matter how much she would struggle, would teach her that she will never be too old nor too big to taken over a man's knees and learn a much needed lesson. I have had many a woman think that her bottom would outlast my hand, even, but learned that my hand is more paddle-like than even a paddle and that her struggles and potty-mouthed outbursts would only result in a longer time spent in the face down position that misbehaving ladies need, and many, like Miss Rowe, want. And, speaking of potty mouths, Miss Denise Marie Rowe has a great one as I have seen from our conversations/messages when she was on facebook. A definite reason to spank her, not to change her so much as to curb her pretty mouth from too much potty mouthing.

Notice how, too, when she described that her grave-jumping days were curtailed by the sheriff that she emphasizes that the events only ended during the daytime. Seems that the little lady kept it up when it was dark, then, which makes it even more dangerous. One of the primary reasons a woman needs to be spanked is because of her impulsive nature to act in ways that are not always in her best interest, and there is no doubt, even at her age, Denise Rowe still is impetuous by nature and does not always use her best judgement, thus spankings are oftentimes needed though they are still lacking as often as are needed.

A highly intelligent, independent, articulate woman is this Miss Denise Rowe, but also so very, very naughty as she always will be.

More to come, Dr. Fish, but, I think you get the message thus far about how she comes across. At least to one viewer, but I am sure many others would agree.

Until later, have a Happy New Year and if you communicate with the Lovely Brat of a Woman, please express my hopes that all is good with her, no matter what tribulations she might be going through.

Sincerely and Firmhandedly,

Michael aka SantasSpanker

Just as a woman's eyes are the mirrors of her heart, her shapely bottom is her "seat of learning". She must always remember that a hairbrush has two useful sides, the bristle side for brushing her silken locks and the hard, harsh wooden side for teaching her through her "seat of learning".
---
Dear Dr. Fish,
Why aren't rigid sigs done to as deep as possible (usually 25 cm with your long scopes)? Do the models prefer that (since it usually does involve some cramping and introduction of some air)? I recognize that sometimes for technical and anatomical reasons the sigs can't be done to 25 cm.
I am a physician who enjoys your movies, as they are fairly realistic, although, they do not reflect what happens during usual physicals.
Our Response:
I like it that you're a physician and enjoy our videos!  Although several of us have some medical training and work in medicine, none of us are physicians.  I think that trying to insert a proctoscope all the way in would require some formal training that none of us have.  While we try to make things realistic, we also don't want to harm the models.  Perhaps someday, someone will come along and train one of us how to do it properly.
While we try to make our exams real, we also try to stretch the limits of reality.  Obviously, most physical exams aren't very interesting and don't routinely include enemas or spankings as sometimes happens to some of our poor patients.
Thanks for writing and please let me know if you have further comments or suggestions!
Dr. Fish
---
Dear sir,

MICHELLE WAS ONE OF YOUR BETTER MOVIES!

The way Dr.Claw turned her nose up in an authoritative manner when she explained that the girls temperature would have to be taken rectally was GREAT! The line " I don't think you want those in your mouth " after she explained she had only rectal thermometers was THE BEST! The embarrassed look on Michelle face when she sat there and reluctantly dropped her pants and bent over the table was EXCELLENT! This girl Michelle really gave way to a lot of nasty sounding poo when she sat on the toilet. It was probably the best expulsion scene I have seen. The way the Doctor had Michelle bend over for a spinal check was GREAT TOO!

This Dr. Claw ( You have to get rid of that name- TRY DR. REEVES ) really captures that smart and sassy overeducated attitude that a lot of these young doctors have these days.

I want to see some longer running time with the genital exams. I have told you that before. You need to spread the girls cheeks and let the camera get a good peek at the girl's anus and then do a digital rectal exam before the anuscope. A clear plastic anuscope that shows the audience a 360 view of the rectum would be appropriate.

I also want this doctor to straighten out the patient who is afraid for their own health and actually listens for once while the doctor administers some strong words of caution regarding things like smoking and drinking. A lecture on loose behavior and STD's is a must. I want to see that reluctant look when the doctor then orders the girl to drop her pants and underwear and bend over the table to be punished. You need to add more discipline in your videos.

TWO THUMBS UP FOR MICHELLE!
---
I see you published an interesting exchange of opinions between you and one of the customers in the 'Written Words' section. I definitely agree with you that the main value of stonefox's videos is that you keep them as realistic as possible. The approach you have been following over these years seems right to me and I hope you will stick to it in the future as well. Having said that, I think the customer you quoted does have a point about two things:
1) making a scoliosis exam a permanent fixture of your exam scenarios seems to be a great idea (the patient has to bend down, touch her toes while the doctor examines the spines).
2) I'd also appreciate some prison related stuff from time to time, e.g. a strip search followed by an exam with an enema.
I look forward to your next videos!
---
One of our customers wrote this: OK that was a quick response. Tori might be the oldest, but she looks juicy and has a great ass.
Models below average: Well, since you asked: The redhead doctor does not belong in front of a camera. The same goes for nurse Anika, sorry. The patients are also not sexy.
The doctor/nurse on a medical fetish movies should be the most horny on the set! She (not he!) should make the medical procedures in a way that makes no doubt that she is horny and seeks sexual response from her patients. Madam Danielle from Gyno Fetish Dreams is the best example. She has sex all over her face. Never be apathetic on a porn movie! That's a desire killer.
Take Doctor Tushy for example. Of their first 100 models, about 80 were great. (They became less choosy later). Young, fresh, good looking. They sticked to a few rules that made sure the viewer will always get something: When the girls undressed, they were always filmed from behind, bending over and take their panties down slowly. This was usually the moment when my dick went up. It was clear that this was staged but it was hot! The director had the viewer in mind. Also, I was always sure, that on some point the girl will end up on her fours with her butt up in the air. This was the hottest part of the clip, and the girl would stay like that for a long time, having her arsehole oiled, fingered and probed. That was the scene where I usually came!
Later, when for some reason they stopped that and the girl would just lie down on her stomach, the sexual quality of the movies dropped considerably. Later they came up with a new idea: The spinal check. The girl would bend over, her robe slipping down, shot from the side. Then she would turn her back to the camera and bend over again, showing the ass partly open in the process. What a scene! Somebody was definitely thinking about the viewers!
About the girls: They should have a nice ass, be naughty and sexy. My favourite example is "traci" (picture enclosed). You should have at least five girls on that level on your site. (you have one). The girls should be young, clean, no piercing, no tatoos, no fake tan, no fake tits, or at least minimum of these. No injections please! They are a turn off. No violence or cruelty. It's a turn off. No frigid girls. I prefer a natural pussy, just slightly trimmed. The female doctor should be bossy and sexy. Lady Sonia is a good example. Finger the girls, massage their tits and nipples, spread ointment on their butt, belly and tits. Lay them on the gyno chair with their legs open and "check" their clitoris. Always have one scene when they are on their fours. Prison scenes are good. Stripsearch are great if they are done without violence. Group shower is great. Group scenes are many times more powerful than a single/two girls scene. Intruder scenes (a guy breaking into a girl's home and surprise her in bed).
I think that's enough for now.
Our response: Thanks for taking the time to write in such complete and specific terms. I agree with you about Tori. She is one of my personal favorites to work with. Sabrina stopped modeling and went into production work some time ago and plans to retire from that soon. Anika hasn't modeled for us in years, but does distribution work for enemarotica and remains a very good friend. I appreciate your dislike for violent themes. We have done a few disciplinary scenes in the past and they are popular.
We have always strived to avoid overt sexuality because to me, it isn't realistic. You will never find nurses at Stonefox wearing the goofy outfits that are in the pictures you sent me. We want to portray realistic exams and our customers seem to like that better than exams that have sexual overtones. When we have included sexual themes in our work such as Nurse Carol Examines Deborah, the sexual aspects are what you might see in a real exam situation, not something that is contrived. You mentioned injections. They remain one of the most popular aspects of our work. Many of our customers won't buy a product that doesn't incorporate that.
Fetishes are very much in the mind of the beholder, and when I started Stonefox, it was because I didn't like the material that was available and I knew I could do a better job. We have been in business for 17 years and have a very loyal customer base. I follow the blogs and forums so that I know what people like and many of the comments that I hear are how Stonefox is realistic and Tushy is clueless. I don't disparage other company's work, but we aren't going to become like them, if only because I would personally hate it. Right now there are several companies that offer medical fetish material and I'm glad that you like some of them and are able to find what you want.
Thanks again for writing!
---
One of our customers sent us this. It was too good not to share!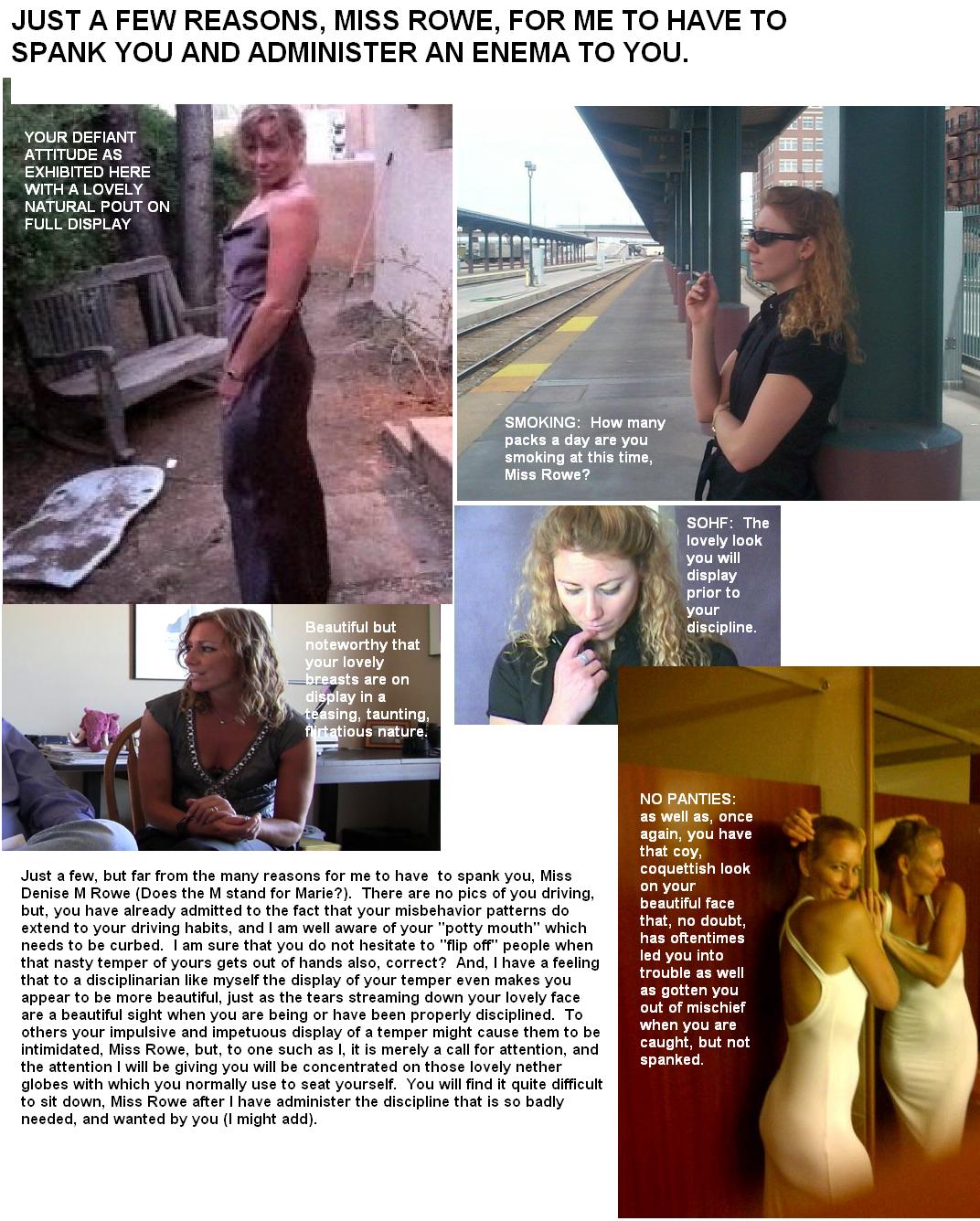 ---
Down through the years you have shown yourself and your company to be diligent and thoughtful. Your last response to my letter showed that you put whole heart and soul into your business. You appear to be present and available. These are fine qualities. May you enjoy every success.
---
You should know that in may ways your site saves lives. I recently had my third colonoscopy. Two more polops were found. I breezed through it in good humor. Many people are terrified of this procedure. I lost my grandmother to colon cancer. I would like to see more OTK bulb work because I believe that represents the caring parent/child relationship so often missing is an area of need where much abuse and insensitivity exists. Retraining the subconscious mind here would help by visualizing gentleness, concern, patience and loving care. "The enema" for me was the fear of fears. I raise a few horses now and better understand that with the young ones, as well as the old, you must proceed training in all ways with gentleness, never giving occasion for fear. This is an important area of trust early in life that sets some things in motion which will last throughout a person's history. You may hold a valuable key to helping others process through their own experiences. You may call it a "fetish" but in certain it could be a mission field.
---
Thanks, that's pretty nice customer service. I was looking for a separate blue text link, I guess I was missing the "product description" reference. Thanks for getting back to me, I'll continue to be a customer. Here's a suggestion for what it's worth, I'm the member of a pretty prominent medfet group and we all agreed that we'd like to see more of the uptight businesswoman having to undergo an embarrassing exam scenario a la Denise Rowe's first exam. We're all big fans of the now defunct Dark Circuit videos that put their patients into unexpected scenarios, don't know if you're familiar with those ( Lisa's Day at the Lab is my favorite video of all time). Also, just a personal note, you seem to have forgone the digital rectal exams for the straight to the anuscope procedure. I feel like the dre is much more entertaining, especially if done with patient on her side with one leg drawn up and doing some real probing. Anyway, just a few comments, keep up the good work.
---
I just received "Student Nurses Practical Exam" and was delighted.This was a great production and a great value with my membership discount.I loved the old-fashioned white nurses uniforms and the rectal temp and enema sequences.Keep up the good work.
---
It was because you ladies at Stonefox are so free to be public with your most intimate parts and proctoscopes/sigmoidoscopies etc., that I overcame my fear of having a colonoscopy in a hospital were I worked and knew all the nurses personally who would be with the doctor. Everything was fine. So as anyone can plainly see we can learn alot from our friends.
---
Thank you and the replacement disc arrived here yesterday. I had a quick look through and it played from one end to the other. The television screen came up with the message ....resume play from last stop..... although this was a completely new disc, and it went straight on from where the girl started to remove clothing, which was where the faulty one stopped playing. and then showed her treating herself. Modern technology!!!!! As I said earlier, we help people on a voluntarily basis, who want to treat cancer, using a method used by the Australian aboriginal people. Our naturopathic guide holds enemas and coffee enemas in high regard and recommends their frequent use. Many people turn up their nose at such a treatment, and one couple, who were very apprehensive about the treatment were begging for reassurance, and so ultimately I was the guinea pig and the model. I was given a cleanser, then a coffee which had to be retained for 15 minutes, then another cleanser. That gave her confidence and she ended up saying she wished she had known about it 20 years ago, and she had a lot of fun and the quality of her life was improved. It did leave me embarrassed and I don't want to do it again. I am sure your DVD will help a lot of unsure people when we show it to them. It is so professional. Again thank you so much. Do you have any suitable with a lot of good clean humour? If so please tell me.
---
Thank you for letting me know so far in advance Dr Fish, though I sincerely hope that you say to Tori "If you could please lower your panties and bend over the table... You're going to feel my finger up your bottom..." I've seen a lot of Tori's videos and I do enjoy her performances a lot, yet she's missed out on my favourite type of DRE (close call in Denise and Tori's follow up exam). That being said, I do enjoy all the female models on your website, but I do have a soft spot for Tori. Thanks for the advice about the Visa giftcard as well, I didn't think it would work for something like this. And finally, thank you for your time in replying, as well as the work you put in to this specific niche of erotica.
---
I take this opportunity to thank you for your efforts and commend your customer service skills which I can confidently state ranks as # 1 in the industry.
---
Dear Stonefox Team, Thanks and congratulations for a great website! I enjoyed one of your newest releases, 'Prison Clinic'. I'm a fan of a 'prison-genre', so I appreciate that you produce videos like this from time to time.
---
Dr. Fish; I thank you profusely for your kindness and commend you on your excellent customer service. I also thank you for your prompt response.
---
I've seen a few videos and I enjoy them. However, if I can make a few suggestions, first, I'd like to see more looks inside the toilet after each expulsion (all part of the taboo of women having a BM). Also, if you can do a few "older women" 40-50s as there are attractive older women. Older women with constipation problems or what not. Thanks and keep up the good work.
---
First of all, allow me to apologize for my angry message. While I attempt to wait an entire membership before posting any type of site review on message boards, I do not always exercise the same restraint in direct contact. Your site is simply run differently than the norm. It required an adjustment in mindset for me to begin enjoying. I first encountered your site years ago searching for spanking material. I decided not to join at that time. Recently, something happened on your site that caused me to join, Lila. I love the explanation for the marks she gave in the prisoner video. And if I may schoolmarm for a second, you should have spanked that first inmate. Perhaps her visit to the warden will be an upcoming update. While I appreciate your information page, the site lacks personal accounts or tips. For example, two to four ounces of lemon concentrate, the kind available in any supermarket, in a two quart enema accomplishes two objectives. One, it replaces the need for salt as a ph balance. And two, reduces the unpleasant odor significantly. While reducing the odor may not be an objective of a punishment enema, perhaps you will find use for this information. Perhaps others. Ironically, of the three purchases I've made, none of them involve spanking, the search that brought me to Stonefox. However, spanking sites don't have enemas now do they?
---
I have found your firm great to deal with, so thank you. I turned 70 this week and when teenager the Mister mag had a big influence on me and has lead to a life of trying to get the ultimate spanking experience,(which I have). I am now interested to look back and see what did this.
---
Unfortunately, I had no more hard drive space to download this file. I just upgraded my hard drive yesterday, only to find the download has expired. Is there any way you can give me a few more download days now? I have never downloaded the file.

>I set it up for you again. You have access to it for 7 days.

Thank you very much. It's this kind of service that will keep me as a loyal customer. Once again, thank you.
---
Just some feedback on my recent purchases. Models are definitely getting better. Slim is nice--big boobs are not a necessity. Models need to smile more but not fake--a nervous smile. Maura does a good job. Speaking of Maura, the new "Young doctor seems to be too timid to really put his finger up into the her rectum. If a patient comes in announcing an intent for anal sex, the doctor would feel way up into her rectum. The Older Dr Fish does a good job at this. He puts his finger up and does an exam that is very believable. Also, and probably most import, I for one would appreciate some good colon tube action. The one in Tatiana is too thick and not what we use out her in the public. How about an old fashion 32 Fr slide up about 20 inches??? And finally, each lube of the anus prior to insertion should be at least to the first knuckle--not just a smear of lube. It is not only appealing from our standpoint, it will help the models relax for what comes next. Just thought you might want to know.
---
Dear sir, I have bought a bunch of stone fox videos in the past and am happy to say that LILA was one of the better videos. All in all, LILA was a good video and I am happy to have it in my collection. Keep up the good work!
---
I want you to know that you guys have hit the jackpot with your new LILA video! I have seen LILA on the real spanking network that I am a member of. I think this girl is nice!
---
Thank you for your great service. I am thrilled with my recent purchase.It arrived in a timely fashion and my member discount made it a great buy.I look forward to buying other great products from you in the future.
---
I have purchased several of her video's and really enjoy watching them. I can't tell you how many horrible stressful long work days I have had and I come home and make some spaghetti and sit down and crack a beer and watch one of your flicks. It relaxes me, relieves anxiety, and restores humor back to the mind which this abbrassive world we live in can so easily rob from you if you let them. I have a pen pal in Florida, "female in her mid 20's" that I have talked to for over 8 years. She suffers from severe anxiety. She has a major shot fetish. Anyways, she told me she watches your movies and it helps with her anxiety. When someone can disappear into their imagination for a bit, its almost like taking a tranquilizer without no unpleasant side effects. So, you people actually help people in ways you couldn't imagine. Depression and anxiety is such a painful disease, hidden, it can't be felt with the hands by a doctor, seen with a X-ray or MRI. Its just invisable pain people carry. Pain that is as real as breaking a bone or having a tooth drilled. I truly believe your video's are like mind candy. It just helps in a little way to bring humor, and sexuality back into peoples minds.....Thank You so much. You people are awesome....
---
Hi, I just purchased First Sigmoidoscopy. This is a very well done video, at least in my opinion. It is very erotic and not vulgar or crude. There is no profanity nor are the characters demeaned. The spanking scene is very effective without being cruel or abusive. The actresses are both very attactive and portray their roles well. Great product.
---
Dear Staff: i thankyou for producing the best gyn exam/enema productions. You are meeting the wants for a growing fetish community. Your customers have a strong gyn exam fantasy and erotic enema fantasy-medical humiliation fantasies. Here is ideally what i would love to have you address in future productions. 1. try to have an occasional more mature patient-40ish 2. try to do the gyn exam as authentic as possible. We are interested in what really happens during a woman's routine gyn exam. I am particularly interested in how the patient gets into the stirrups after undergoing the abdominal exam where her legs are stretched out on the table extension. 3. Show us how the external exam is performed-a typical in depth external exam-during the anal inspection have the patient bare down forcefully so we can see her anus clesrly. 4. After the pelvic exam where a through vaginal-rectal exam is performed-give the patient the soapy enemas rsther than giving the enemas before the gyn exam. 5. Make the patient hold the soapy enemas for as long as possible before showing her getting of the exam table and guickly walking to the toilet. 6. Patient 's productive expulsion results should be show to viewer in the toilet after each enema. 7. The rectal speculum exam needs to show the viewer a well lighted wide open deep rectum view. 8. If patient had enemas in real life-she should describe her experiences to the viewer. 9. We want to see better close up views of the patient's anus while she bares down and excellent interior views of her rectum Thanks for listening to my suggestions
---
I received the dvd Karen Riggens visits PHD. This is the first time I had ever purchased a product like this. I was impressed by how professionally and sensitively this subject was handled. The patient was respected, treated careful and not demeaned. The doctor was very sensitive. This all being said, I thought the video was very erotic - it accomplished what it was meant for. Good product.
---
Just ordered this video (Karen Riggens Visits the Public Health Department), should get it soon. Love your site and have ordered around 20 DVD's from you guys, really appreciate the fanastic work and team you all have, we need more of Sabrina in full nurse uniform and cap...when I bought and watched that last and only movie of her in nurse cap I was in heaven, being a huge fan of nurses who wear the old fashion cap....seeing Nurse Sabrina in one was fanastic, thanks again Dr. Fish you are the best!
---
First of all let me say how impressed I was with "Enemas till Clear" - the first production I have seen where the "patient" actually has a real bowel movement after being given a Fleets enema. I find it really disappointing that HydroMadam does so many productions with Fleets enemas but only the liquid gets squirted out - no brown stuff.
---
Thank you very much. I would like to let you know that your business is the most efficient sites in terms of ordering, incredible timly receipt of product and not getting ripped off on shipping costs.
---
Excellent productions. Cassidy is too cool. She's a crack-up, cute too! Definitely more Bernard's sequels are in order. I like the domestic themes. Perhaps more future OTK action and e's like the Home form College, caring mom/aunt type.
---
I've been ordering videos from you since 2000 and the glory days of Denise Rowe. I'm a big fan and I'm at a point now where it works better for me to watch videos on my computer, so I'm signing up for membership. I'm looking forward to checking out the new video with Sabrina. She has a great ass and responds very well to anal treatment. I hope she goes back to working on her thong tanlines soon. Very few girls have those nowadays and they make her ass look even more inviting.
---
Just wanted to drop a line & say how "GREAT" your NEW design is. VERY pleasant to the eye and EXTREMELY easy to navigate through. Keep up the FANTASTIC work and I will continue to enjoy being a "member".
---
It is 12:40 PM local time and this is my second attempt at writing my observations concerning your two DVDs (Clara's Physical Exam and Domestic Discipline: Rural Style). I had to scratch the first attempt because there were so many thoughts that came to mind all at one time, that I couldn't organize them without seeming to throw a cluttered mess down on paper. I'll try again.

To start with, I received the DVDs in yesterdays mail. I made up my mind not to rush, and to be calm and objective as I viewed your work. Didn't happen! I didn't make a single mark on the tablet I had before me to take notes. Al's genius came into play immediately with his selection of Beethoven's 6th symphony as the theme music. It fit in perfectly with the views of what I assume were beautiful Colorado. His next brilliant move was casting. Anika and the other young lady were perfect in their parts. Then there was Clara.

You were very believable as the young wife of Donald who probably had a checkered past, and who he took in and married to "save." You dominated every scene you were in! Starting when the three of you first gathered in the kitchen, the eye went automatically to you. It was that way throughout the movie. You have "presence." Probably due in large part to your classical face and natural, graceful movements. At this point I just sat back and let my gut feelings take over----and of course my heart. It was so sweet when Donald came home and Clara greeted him by throwing her arms around him and kissing him, genuinely glad to see him even though she knew she was in trouble. The thought came to mind, "Don't you dare punish her Donald! She's sweet and innocent." I'm sure that's what Al intended. Your character throughout the movie demanded protection and love by virtue of being so sweet and vulnerable. I'll never make another joke about Al's acting. His character Donald was perfect as played against Clara's character. He was the bigoted heavy and you were the sweet young thing he abused verbally and with enemas and spankings. I sat there knowing it was make-believe but wanting to scream at Donald to back off and just hold and love Clara----and make her smile instead of shaming her.

Bravo Al and Clara!

Now a few words about "Clara's Physical Exam."

This one was designed, I'm guessing, to showcase your beautiful body. It did, but since you stayed in character with the Clara of "Domestic Discipline: Rural Style," the viewer's sympathy stayed. I kept thinking the evil Dr. Fish, who was in league with mean old Donald, had no right to examine or speak to innocent and sweet young Clara the was he did! Just a word about your body art. I have a daughter about your age, I'm guessing, and when she showed Barbara and me her tattoos I just said, "If it makes you happy, fine, but please remember, you don't need it to make your body prettier. Nothing can improve the natural beauty that's already there." Bravo again and thank you for making your movies available. It solved some mysteries and created others. As time passes, perhaps I'll get answers to other questions. By the way, I got to hear the your voice, something I really wanted. It's just as I imagined----sweet and melodious.
---
It has been amazing to see you develop down through the years. I am certain that your product is serving many people in many important ways in terms of increasing awareness of health issues and human sexuality.
---
Clara Thank you so much for your prompt reply. What a disappointment concerning Jordan. (I told him she didn't model anymore) I wish she had listened to you. I can't even write a fan letter. I took your advice and looked over in ememarotica and found her--I think--- wearing glasses! What a waste! with those eyes--and all the rest too. I'm going to order the DVD. If it's the same sexy voice I'll recognize it. I emailed them asking if it was the same actor. I noticed the date 2001 on the ad. Did Jordan make First Physical after that? They're not responding like you. So it may be awhile if ever. This is all new to me. I've NEVER ordered anything like your products before. And of course privacy is very important. I consider yours and enemarotica DVDs erotic art. It fulfills a need but you already know that and understand the market. I'm of an age when I say why not. I plan to join your membership and of course order other DVDs. I'm sure you have other beautiful models beside Jordan. Just in parting--she could act too. Very much at ease in front of the camera (these are things I would have told Jordan in a fan letter) What would she have done with well written dialogue, top notch director, lighting, sound etc. and surrounded by other good actors (Erin was OK but Dr Fish?) Enough! I'm not usually this longwinded. Thank you again for your reply. And if you think of any other info or sites where I might see Jordan please let me know.
---
Hi Again: Again after watching this production (Felicia Williams Insurance Physical) a second time this is truly one of your top 3 productions: What I liked: 1. Attractive patient 2. Great bottom 3. Great anal close ups 4. Soap used in 1st enema 5. Patient told us a little of her enema experiences 6. Good history taken 7. Enemas held for long time 8. Good expulsions-results shown to us
---
Hi Staff: I found the above production to be one of the best you've done. Great close ups and F. Williams/aka Pam Duncan is the best girl I've seen in a long time-great bottom and pretty face.
---
I just love it when I meet up with another medical fetish person who is nice enough to cut me a deal on some good porn! Further more, I think that you people are doing an excellent job and are by far the most interesting group of people to ever come out of the state of Oregon!!! Keep up the good work!!!
---
I am a member, and enjoy your site. I would like to request that you keep at least one "shot" scene and one "spanking" scene in your weekly member's lineup. Thank you, and keep up the good work!
---
Hello, Glad to have found You on the web! Medical fetish is the best for me, and you know how to make it ! Just wanted to know if you make custom video, and perform painful exams, involving very uncomfortable gynecological procedures. Let me know if you are interested. Thank you very much ! Federico
---
Very impresssed with the "Victorian Way." I never thought it was possible to reproduce the ambiance of the era. This is a great performance many thanks, your Roland Sorry for my little English I'm French
---
You guys do great work. Thanks for providing something that's in very short supply.
---
Thank you for all of your great sites and videos.
---
Dear Dr. Fish, Nurse Annika, To Whom This May Concern: Firstly let me say how thrilled I am with you all. Keep up the great work. I'm a long time monthly-membership holder who also owns a couple of your tapes and who also has a thing for gluteus injections. This truley is the only place on the web for quality butt shot videos. This brings me to my second point. I would like too see more butt injections rotated into the clips each week. Any idea on that? Also, I have never given or received a shot in the behind. I would like to end this drought. Is there any suggestions you could give me as to what I could recommend a health-care provider to give me a shot of in my behind, please!? Preferably painful too. Thank You & Bottoms Up,
---
I'm usually not one for hyperbole but your latest video, "Sweet Revenge" has to be one of the best, if not the best sensual enema videos ever!..... As soon as I retrieved the disk from my post box this morning I installed it in my player with the intention of merely "spooling it up" to make sure that it would play. As it turned out, I couldn't take my eyes of Babie Carlos and Lucy Lucy, and ended up watching the entire film. As a director, you did a great job of capturing the dynamic tension between these two actors and made their role playing very real. In the opening scene, the lighting was somewhat harsh at first, with your shadow moving visibly across the wall behind your subjects. So, I thought....well this is going to be another round of "Secrets". boy was I mistaken....the longer I watched the better this film got (in every respect). The bloopers were cute...I'd love to see an "off camera" interview with the actors sharing their impressions of the film as a trailer some time. I especially enjoyed the dialogue. So few D&S or enema movies have any. It's unfortunate because In my opinion , expressive speaking lines, along with facial expressions and body language, provide a key dimension in conveying what the performers are feeling. That's probably why I still prefer, Cagney, Bogart,and Hepburn over current movies. Both your new adult actors are attractive, credible and natural on screen. Don't lose these two.... Then there's Lucy Lucy.....What can I say? I could be the president of her fan club! I'm ready for":Sweet Revenge" numbers two, three, and four. You can sign me up now (lol) Seriously, with your excellent directing and editing, coupled with a stunning leading lady, It would have been an honor and a rare pleasure to be able to work with you
---
I just wanted to drop you a line to tell you I think "College Friends - Class of H2O" is a very sexy movie, one of the best I've seen. Yes, the girls were not the best actors, but the important thing is they enjoyed what they were doing to each other, and I certainly enjoyed watching them. The plot was excellent, and I loved the fact that the cameraman was a woman too. It was very sexy to see the girls enjoying watching the other release. When the one girl said "If only it was in my mouth", that was very sexy. Speaking of that, when the other girl was about to receive her enema, she apparently released something, and apologized for that, I wish the camera had not missed that, it was definitely a high point for me.
---
Thank you! I certainly didn't expect that quick a response . . . you guys are the best! -Jim
---
THAT'S WHY I LOVE YOUR MOVIES ITS JUST NOT ONLY ONE SCENE OF MEDICAL EXAMS BUT IT'S THE STORYLINES AND SCENARIOS. THAT BUILDS YOUR MOVIES UP TO THE EXAMS AND MAKES IT MORE EXICTING TO WATCH!!!
---
Dear Stonefox, I want to thank you very much for your prompt response and handling of this matter, it made me a very loyal customer of your company, and you'll see it in a couple of weeks when I order some more DVD's from you. One more thing if you don't mind, do you have or do you know a place I could find the movies I asked for ? The movies with urethral manipulation and penetration ? If you have any info for me please send it to me. With many thanks in advance, and more business, sincerely, Mike.
---
Just a follow-up to this e-mail from last week. I have now received my order as of today, Thursday, June 9th, and would like to thank you for the discreet mailing system that was used, i.e. plain while envelope with only a return address showing. I will definitely feel comfortable in placing orders through Stonefox again.
---
Good aftenoon to all, Just recieved my copy of ' Secrets '. A very nice addition to my ( growing ) list of enema videos/DVD's. Thanks for having such a wonderfull site for enthusiasts like myself. There seems to be less and less out there who have real quality products ( of the nature that appeals to me; anyway ).
---
I just received the order today. Thank you for resending it. I must say I am impressed with the quality of your productions and I'll be placing another order very soon...using Mastercard this time.
---

Hi,

Received my video today and all in working order. I really appreciate
how much effort you've gone to. Hope to do business again with you
soon.

Thanks
---
Dear Stonefox-Team,
Wow - you really care about customers!
Thank you very much and I hope my next order will not be that time-consuming for you.
Best / -H-
---
Dear Anika?
Thank you for your prompt reply with your kind offer of keeping the DVD sent in error. The $30.00 DVD special price plan was greatly appreciated because I could now afford to get two DVD's I wanted for a long time. I really liked it when Dr. Anika was giving the over the lap to Mrs. Johnson. Her grunts and reaction of distress were great. Too bad that Dr. Anika did not insist she take the whole bag. I would like to see a girl getting an over the lap enema during which she begs for it to end.
It is a pleasure doing business with both you and the collector. You both are good business persons. Keep up the good work
Happy customer
---
I have ordered from you before and am impressed with your productions.
Thank you for your professional business manner.

Joe
---
Just wanted to let you know I received my DVD's in yesterdays mail, thanks so much for all your help. I am sure I will be ordering more.

Thanks again
---
I enjoyed "Sabrina's Roommate" immensely. I hope there will soon be a DVD that shows more of Cheri's gorgeous 40DDs as well as her delectable derriere. "Tatania's High Colonic," for instance, gave us the whole girl. THAT was the kind of thing I like to see!

Best regards --

---
Dear Sir:

I recently stopped by your website to see what type of videos you produced, and my attention was caught by your model search.

As you would assume, I have absolutely no experience in your type of production, although I have long been interested in the scenarios you portray. To be completely honest, I have yet to view any of your videos, but my interest in completely piqued. The idea of starring in a video with that type of story line is extremely interesting to me as well. However, I am curious as to what would be expected of me in such a situation, as well as what type of compensation is involved.

I do not have a suitable picture to send you at this time, although I can give you a brief description of myself for the time being. I am 31, have waist length brown hair, I am nearly 5'7'' and weigh approximately 115 lbs. I have blue eyes, and my figure is roughly around 36- 26- 34 . I am considered pretty by most, although I hate saying something like that as it sounds arrogant.

I would appreciate your time to respond if you are interested in any new models at this time, and if not, sorry to have bothered you.

Thank You,

I really enjoy your Stonefox videos. My friend has three, and I hope to purchase "The Evil Dr. Smith" shortly (I have not seen it, but the preview looks excellent).
---
I am a 49-year-old man, single, and a refugee from a 14-year relationship with a woman who suffers from schizophrenia. I might now be an English professor, if not for the endlessly horrific episodes of suicide attempts and state hospital visits, all of which left me isolated and lonely, in debt, and with a lousy self-esteem and a fragile libido. Boston University never happened.
What I admire most about your videos is their joy, their kinky medical examinations, and their clean, fun-loving plots. Unlike so many gory movies out there, that center on torture or humiliation, which I cannot stomach even to think about (which I will never see), your movies are pretty innocent, yet they are truly sexually alluring.
What can I say about the characters, like Anika and Tori? They have such happy faces! I would love to portray a character in one of your movies. It looks like so much fun, and the feel of a long tongue of warm fluid coming from a bulb enema nozzle into my nether region, or the feel of a long, sharp hypodermic dart sliding deeply into a soft, deep muscle of my butt, and its release of saline, or of a healthy, invigorating but burning dose of Vitamin B, tremendously stirs my libido and interest.
I can almost fantasize numerous things done to me at once: enema, 1-3 intramuscular injections (three hands simultaneously pushing down plastic plungers), spanking. Even a catheter sounds good (twenty years, single and alone, can bring about some very strange desires).
I know that Stonefox is not into pornography (or if it is, that's news to me). I believe your videos speak volumes of what you are about, and clean, kinky fun is much-needed in my life about now.
Sincerely,
---
I just wonder if you could be interested on me as a model. I am 37 years old, and quite shy. But in the last two years my husband has asked me to play some sex games that helped me a lot enjoying it. I have showed naked on web cam many times and enjoy it, but never performed for a video recording as you do. I am not very young but my breasts are small and firm, with big nipples (take a look at my photo). I sometimes travel to USA, but may be you also visit Spain.
Same as you for some models, my face should not be shown on screen and I would also like my husband to accompany me wile performing, without interfering.
I would enjoy rectal and vaginal examination and enemas, but no injection please.
Looking forward for your answer,
---
I'm not quite recognizing who's playing Amanda in Amanda's Rectal Exam - is this her first video, whether Stonefox or Collector? Please let me know.
---
By the way, here's a bit of customer feedback - a request, for what it's worth. Would love to see Siobhan in a scenario in which she finds herself gagged at some point during her stripping/exam/enema. For example, a plot in which she falls on financial difficulties and reluctantly accepts an offer to make a bondage and enema fetish movie. Or maybe a strip-searching officer or customs official gets annoyed at her mouthing back and gags her with her own pantyhose, with her panties as mouth packing. There's lots of us gagophiles out there in the fetish world, and if you advertise that component in the video description you'll probably find demand enough to justify making it. And make her character be very bashfully embarrassed at the things taking place to her. Again, I think among your clientele there's a lot of people with a taste for that aspect. And I've always had a thing for Siobhan - very coy, believable acting; gorgeous looks; and a butt to die for. But if not Siobhan, any of your girls would do (preferably one who can come across as very naive and innocent).
Think about it, won't you?...
By means of this mail desire to know if I can acquire their DVD by means of
a I deposit or money order, I am of Mexico and I like and it interests their
movies, but I don't use credo cards for security, since I don't like to
manage them for internet, I wait a form he/she exists of acquiring their
material for another means, I deposit bank, I pay for money order or other,
and I want to know if they are discreet with the packing since don't want
them to realize the material that I receive other people with who I share
the house, for what I want to know that discretion manages in the shipping.
If this operation type as well as does the shipment to Mexico of the DVD
have an extra position of as much as it is? to know the I mount of this and
to make the I deposit, the cost is in dollars, to make the currency change
and to carry out the I deposit and how many days he/she takes a long time in
arriving the shipping.

While waiting for their answer and wanting to be able to acquire their
products says goodbye.
Ever given thought to having a video with the husband taking his wife to the doc for an exam and he is really wanting to watch but she will not let him. Then somehow he is able to peek in to the exam room without her knowing and seeing his point of view. She is given an unexpected enema and rectal exam and he watches. She arrives fully dressed to start..dress,slip,panty etc......
One of my Fantasies. and I am sure other hubbies who have shy wives.